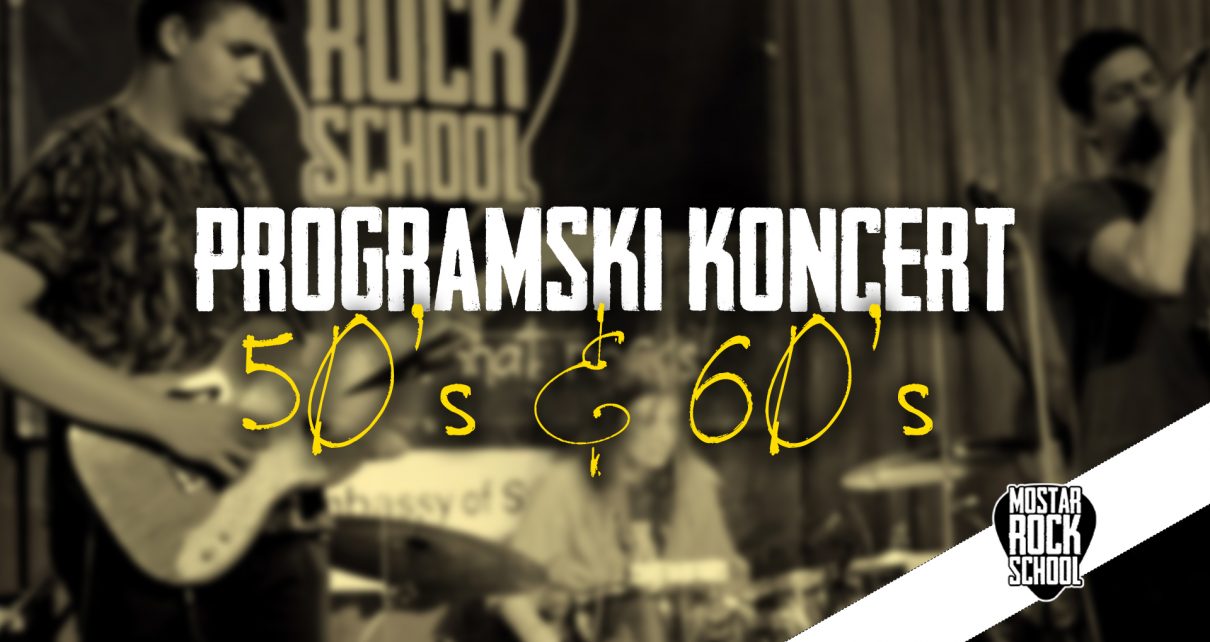 Najavljujemo: Prvi programski koncert 50's & 60's - 24.10.2019.
Mostar Rock School vas poziva na prvi programski koncert u 2019/2020. rock školskoj godini.
Prvi ciklus session band programa Mostar Rock School započeo je u znaku muzike iz pedesetih i šezdesetih. 13 session bendova u proteklih mjesec i pol vrijedno su radili su na pjesama iz ovog perioda, spremajući hitove izvođača kao što su: The Beatles, Jimi Hendrix, Etta James, Ray Charles, Janis Joplin i mnogih drugih. 
Pored obrada hitova svjetskih izvođača bendovi su pripremali i autorska djela, a došlo je i vrijeme da svoje pjesme i umijeće sviranja predstave i publici.
Under this program, Rock School forms 10 – 15 bands which are tasked to prepare for a concert within a certain time frame. The school then organizes a concert where all session bands present their work and results.
Within one school year, five thematic cycles of session band program take place, covering the music decade of 50s onwards. New bands are formed for the each round resulting in total of 50 – 70 different bands formed and as many original songs created. It is the Session band program that links all the students. It is the team work and creative process that teaches them to work with different personalities, to express their ideas as well to embrace the ideas of the other.

Unutar ove školske godine Mostar Rock School će održati pet ciklusa session band programa. Svaki od ciklusa će biti tematski orijentiran, a polaznici škole će u svakom krugu imati priliku raditi u različitim bend formacijama. Svaki ciklus session band programa završava programskim koncertom. Bend sa najboljom autorskom pjesmom osvaja i snimanje singla u DK Studiju Rock škole Mostar.
Stoga vas sa zadovoljstvom pozivamo da podržite polaznike i polaznice Rock Škole Mostar na njihovom prvom session koncertu u 2019/2020. školskoj godini u Klubu MC Pavarotti, u četvrtak 24.10.2019. u 20:30.
Ulaz na koncert je besplatan.